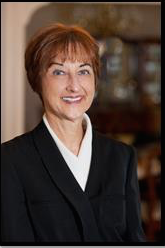 Nancy Lewellen is a real estate, business, and international law attorney, and the managing partner of the Palladian Law Group. Her practice encompasses arbitration, mediation and transaction work.
She earned an International Law Certificate and a Public Interest Law Certificate from Santa Clara University School of Law in May, 2000, and passed the California bar in December 2000. Nancy is an alumnus of U.C. Berkeley's Walter Haas School of Business where her MBA Program major was Finance and International Business. Her undergraduate major at U.C. Berkeley was in International Relations with a minor in languages.
She has been practicing law for approximately 20 years, all in the financial district of San Francisco. In her life prior to law school Nancy held lending and credit policy management positions with 3 major banks for 19 years, and had her own Commercial Mortgage and Residential Mortgage Brokerage firms for 10 years.
Nancy speaks Spanish, some Italian and some French, the latter of which she used while working as a Summer Legal Intern for the United Nations in Geneva, Switzerland as part of her International Law Certificate qualifications.
Among her many affiliations, she is a Director Consultant of Business Networking International, a member of Queen's Bench, and a lifetime alumna of UC Berkeley and the Walter Haas School of Business.
She has done pro bono work in her field for the Santa Clara County Department of Human Relations and Legal Services for Entrepreneurs and also holds business law workshops for the SBA.